Testimonials
Bob's Story
Daliya's Story
Elaine's Story
Bob's Story
Awakening to the critical nature of environmental concerns has been a life-long journey. The seeds were sown as a child when substantial medication was administered to reduce seasonal pollen allergy symptoms. At my lowest ebbs relief came only on my family catboat sailboat on the salt waters of the Atlantic and its bays where pollen count were low. While in college in the Arizona desert climes (prior to the extent of contemporary irrigation in that region), and while studying in the urban island hard-scape of Venice, Italy I began to recognize that the lower pollen counts afforded me a more productive and satisfying experience.
Full realization came in unpolluted wilderness settings. An opportunity in my Architect/landscape designer career allowed me to explore and ultimately relocated in Seattle. A primary attraction was finding my allergies less devastating, particularly in mountain and alpine terrain where I retreat for exercise, peace and solitude. I now recognize that native plant communities tend to reduce my allergic reactions to pollens. I am committed to the extraordinary palate of plants that are regionally native. I firmly believe that this approach has allowed me some degree of relief while at home, and I am committed to spreading this design aesthetic as a celebration of the extraordinary plants of the Pacific Northwest.
My architectural career spans a building products transition from relatively simple hand-worked products to intensively processed and chemically formulated. With long and short-term risks of such materials now being recognized, alternatives are becoming available. I now recommend and specify more environmentally benign materials into my design projects ranging from insulations and plywood to bedding. I experience recognizable health benefit results in my own home and am proud to be able to offer my services with an increasingly clear conscience. I am committed to replicating a more natural, native balance in my home and in design projects for others.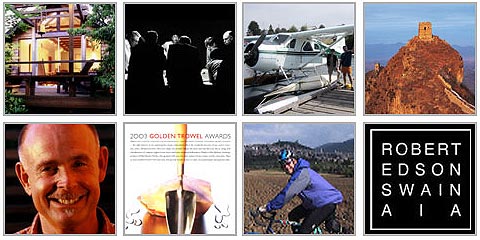 Testimonials
Bob's Story
Daliya's Story
Elaine's Story